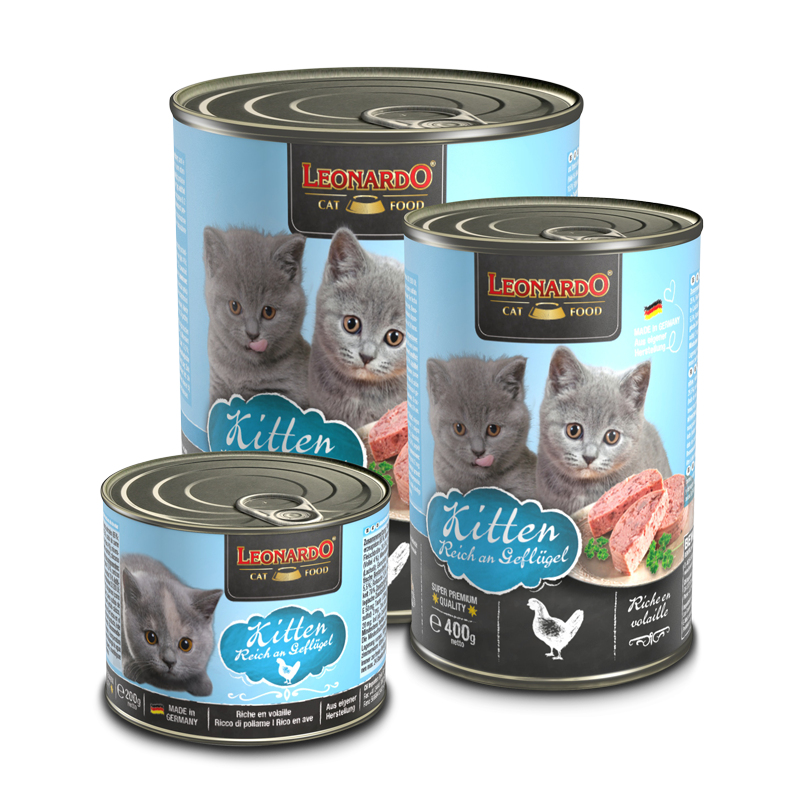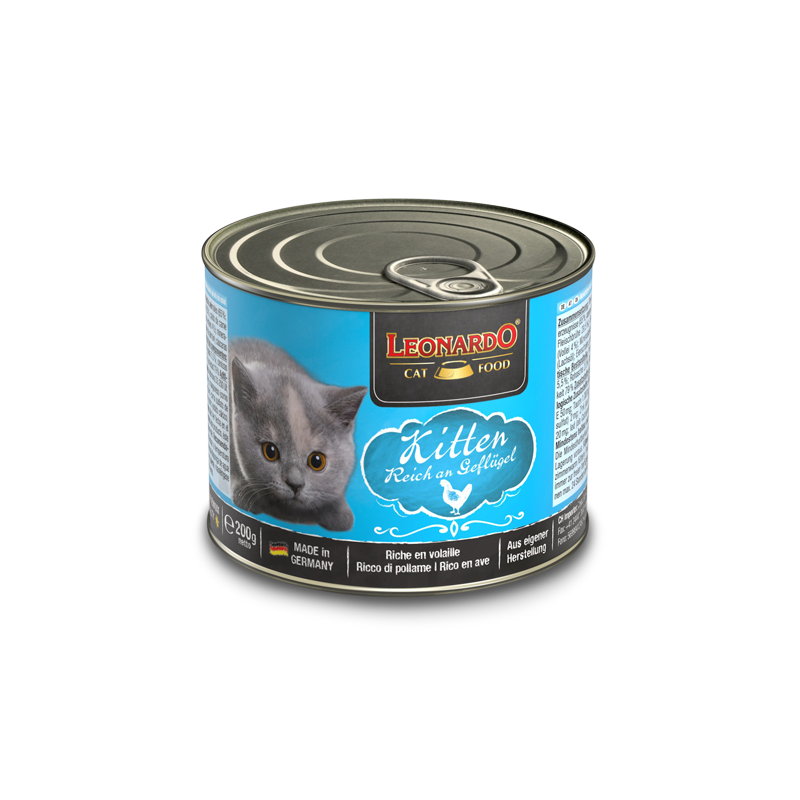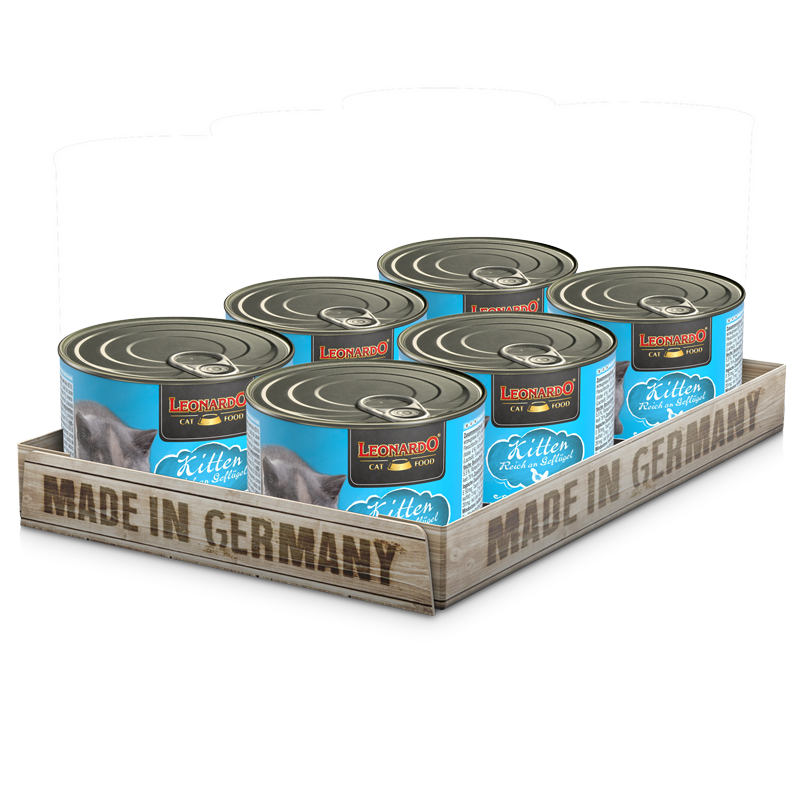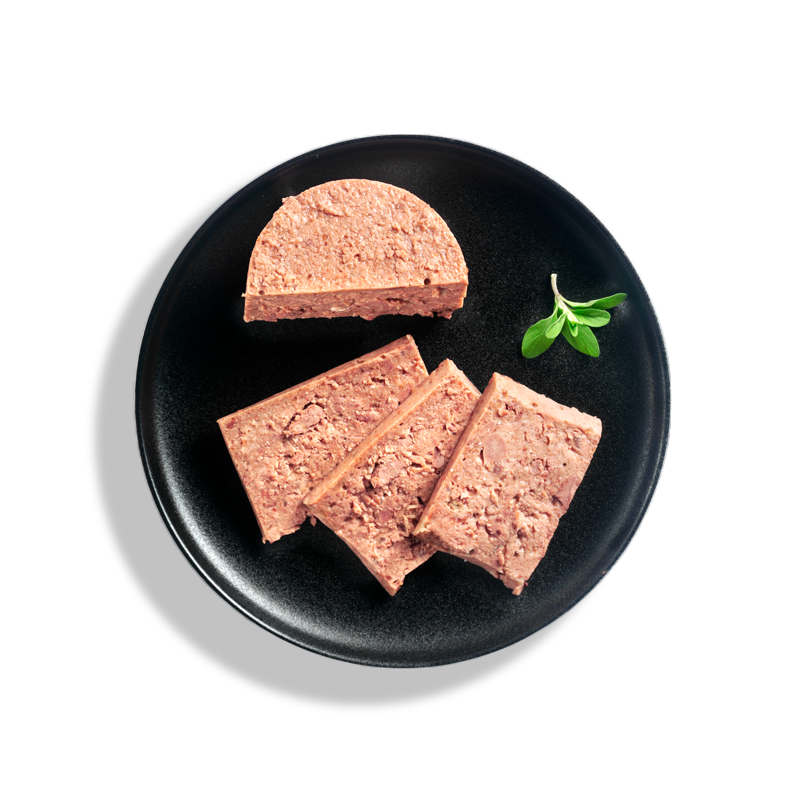 Available, delivery time 3-5 Werktage
Quality - Made in Germany
A quality taste your cat will enjoy
Cats, like their counterparts in the wild, are genuine carnivores. This is why we use only fresh meat products. Thanks to the high biological value of these products, your cat will need a comparatively small amount to meet its daily nutritional requirements.
100 - 300 g daily for kittens up to one year of age.
Please feed at room temperature. Fresh drinking water should be available at all times.
Once open, store in the fridge for max. 24 hours.
Complete cat food for kittens up to 1 year old
Composition
Meat and animal derivatives (65 %; of which Poultry 40 %, Beef 25 %, Meat broth 29.5 %); Eggs and egg derivatives (whole egg 4 %); Minerals (0.5 %); Oils and fats (Salmon oil); Egg shells, dried (0.5 %)
Analytical constituents
Protein 10.5 %; Fat content 5.5 %; Crude ash 2.0 %; Crude fibre 0.3 %; Moisture 79 %; Calcium 0.4 %; Phosphorus 0.3 %
Additives per kg
Nutritional additives:
Vitamin D3 200 IU; Vitamin E 50 mg; Manganese (as manganese(II)sulphate) 2 mg; Zinc (as zincsulphate. monohydrate) 20 mg; Iodine (as calciumiodate. anhydrous) 0.2 mg; Taurine 1,000 mg; Energy (ME) 4.2 MJ/kg; Energy (ME) 1,004 kcal/kg
---
Meine Kater bekommen nichts anderes mehr!
Als unser kleiner Tom bei uns einzog, habe ich das Probierpaket Kitten bestellt. Sofort wurde es angenommen und gefressen, er verträgt es wunderbar - wächst und gedeiht prächtig und sein Fell glänzt. Unser großer Jerry liebt auch alle Sorten von Leonardo, es kommt nichts anderes mehr in die Näpfe! Zum Glück habe ich hier einen Händler in der Nähe, wo ich es kaufen kann, aber auch hier online klappt die Lieferung flott und sehr schnell! Dafür ebenfalls großen Dank!!!
Einfach unkompliziert zuverlässig wie auch der Lieferservice Es schmeckt meinem kitten sehr gut auch die konsistent ist perfekt beim nassfutter danke
Trockenfutter und nassfutter wurde von meinen 2 kleinen rabauken sehr gut angenommen. Ich denke dass leonardo sicher öfter gekauft wird :)
Katzi mag bzw. mochte alles sehr gern!!!
Das Futter von Leonardo habe ich durch Zufall entdeckt und gleich für meine beiden Kleinen mitgebracht. Sie fressen es sehr gerne und vor allem vertragen sie es auch gut. Das Futter hat eine gute Konsistenz und riecht auch angenehm, im Vergleich riecht manches Nassfutter von anderen Marken wirklich ekelig.
Super schneller Versand und leckeres Futter
Scheint sehr lecker zu sein. Meine Katzen haben sich drauf gestürzt und sind begeistert.
Auf der Suche nach gutem Futter für meinen kleinen Kater wurde ich über Werbematerial auf Ihr Unternehmen aufmerksam. Nach Erhalt der Probebox sind mein Kater und ich der Meinung, dass das Futter einfach Spitze ist - Pfote hoch!!!
Meine Katze liebt es, wir haben lange nach trockenfutter gesucht, was unsere Katze auch isst, sie ist das trockenfutter lieber als ihr nassfutter
Super Testpaket in schöner Verpackung
Eine super Möglichkeit das Futter in kleinem Rahmen zu testen. Mein Kleiner hat sich gefreut und das Futter gut vertragen. Die Verpackung ist super schön und alles lief schnell und unkompliziert.