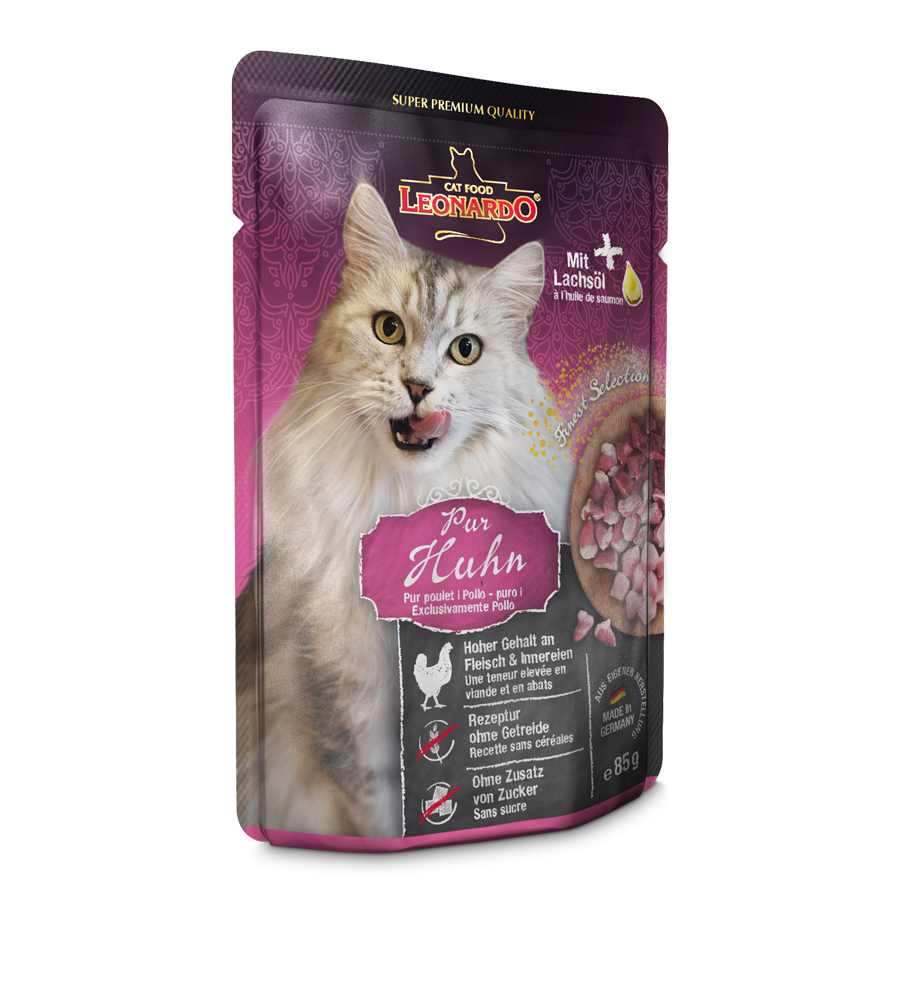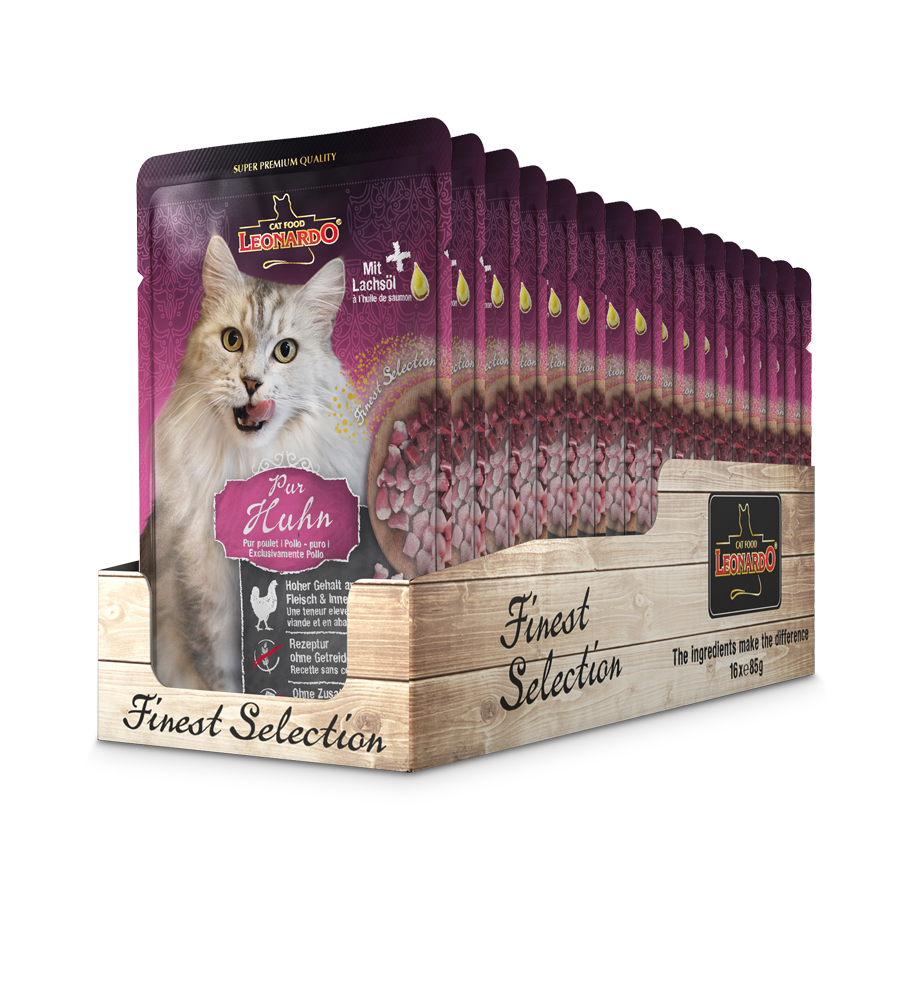 Quality - Made in Germany
The fine selection
Excellent recipes in practical single portions. Juicy meat enhanced with fine ingredients and gently cooked in single-portion pouches. Salmon oil supplies polyunsaturated fatty acids.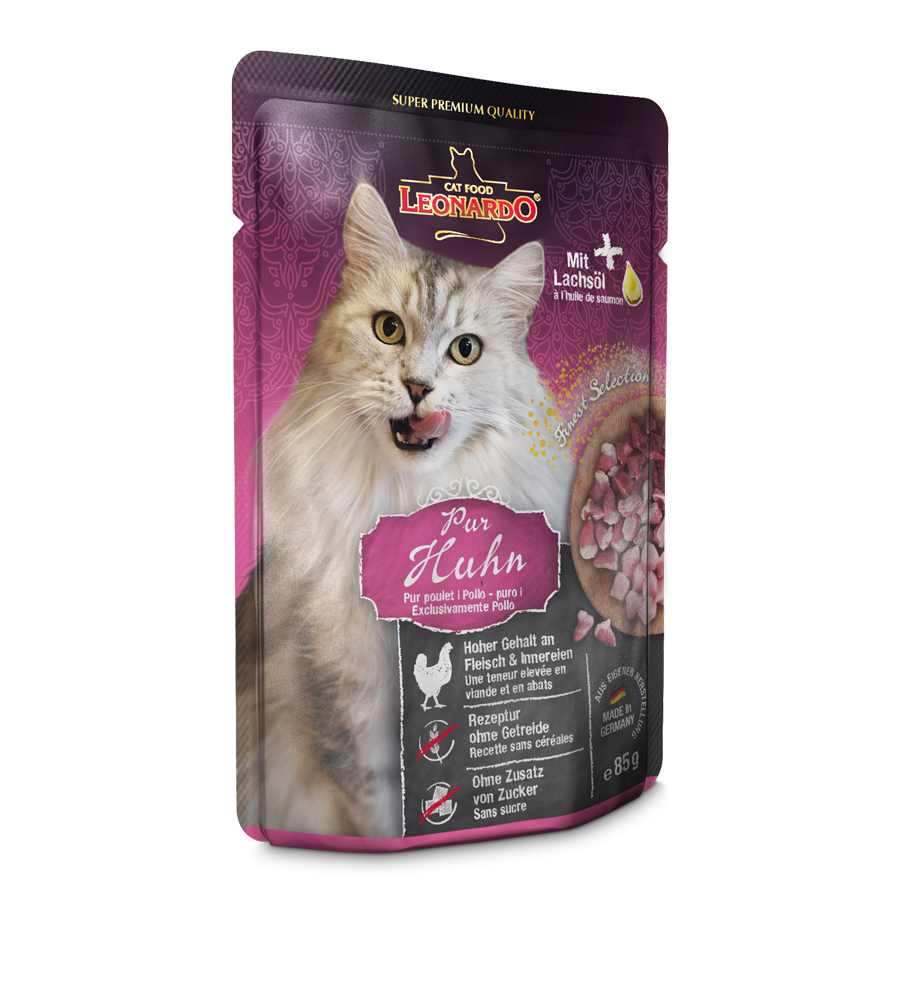 Two-three pouches daily for an adult cat weighing approximately 8.5 pounds.
Please feed at room temperature. Fresh drinking water should be available at all times.
Once open, store in the fridge for max. 24 hours.
Complete food for adult cats
Composition
Chicken meat, heart, liver, gizzard (70 %); Chicken broth (28.8 %); Egg shells, dried (0.5 %); Minerals (0.5 %); Salmon oil (0.2 %)
Analytical constituents
Protein 11.2 %; Fat content 5.6 %; Crude ash 2.2 %; Crude fibre 0.3 %; Moisture 80 %
Additives per kg
Nutritional additives:
Vitamin D3 200 IU; Vitamin E 50 mg; Taurine 1,000 mg; Manganese (as manganese(II)sulphate) 2 mg; Zinc (as zincsulphate, monohydrate) 20 mg; Iodine (as calciumiodate, anhydrous) 0.2 mg
---
Ich habe etliche Sorten ausprobiert NUR Leonardos wird gerne gefressen! Geflügel pur ist der Favorit aber auch alles anderen Asketen bis auf Fisch und Schrimps wird restlos gefressen. Super!
Super Zusammensetzung und toller Geschmack. Die perfekte Kombination!
Das Feuchtfutter ist einmalig Gut ? verdaulich
Endlich ein Futter, das auch unser wählerischer Kater mal länger als eine Woche frisst und noch dazu auch unseren Vorstellungen entspricht. Dazu gibt's täglich eine Portion Frischfleisch.
Habe bereits verschiedene Sorten von Leonardo Nassfutter getestet und alle kamen sehr gut an. Im Napf bleibt nix übrig.
Hochwertiges Nassfutter mit gutem NFE-Wert und wenig Jod, also für Diabetiker und SDÜ-LER sehr gut geeignet.
Endlich das perfekte Futter gefunden!!
Ich war seit einem Jahr auf der Suche nach gesundem und leckeren Futter. Meine zwei BKHs sind unglaublich wählerisch! Ich habe SO viele Futtersorten ausprobiert, was natürlich ans Geld geht und ich wünschte, ich hätte bei Leonardos angefangen! Es wird restlos gefressen! Bis jetzt alle Sorten in den Beuteln, (außer Fisch&Schrimps) der Favorit ist Geflügel pur, welches ich schon das zweite Mal in Dosen bestellt habe und es wird nach wie vor liebend gerne gefressen. Falls Sie auch auf der Suche nach gesundem und gleichzeitig leckerem Futter sind, das ist die beste Wahl! Ich hatte schon fast aufgegeben und gedacht ich müsse gesundes Futter geben welches nur bei großem Hunger ungern gegessen wird. Ich bin so glücklich diese Marke gefunden zu haben.
Eine der Lieblingssorten unseres 9- jährigen BKH- Katers. Wird gern gefressen und gut vertragen. Seitdem wir Leonardo- Futter füttern, gibt es keine Verdauungsprobleme bei unserem Kater mehr.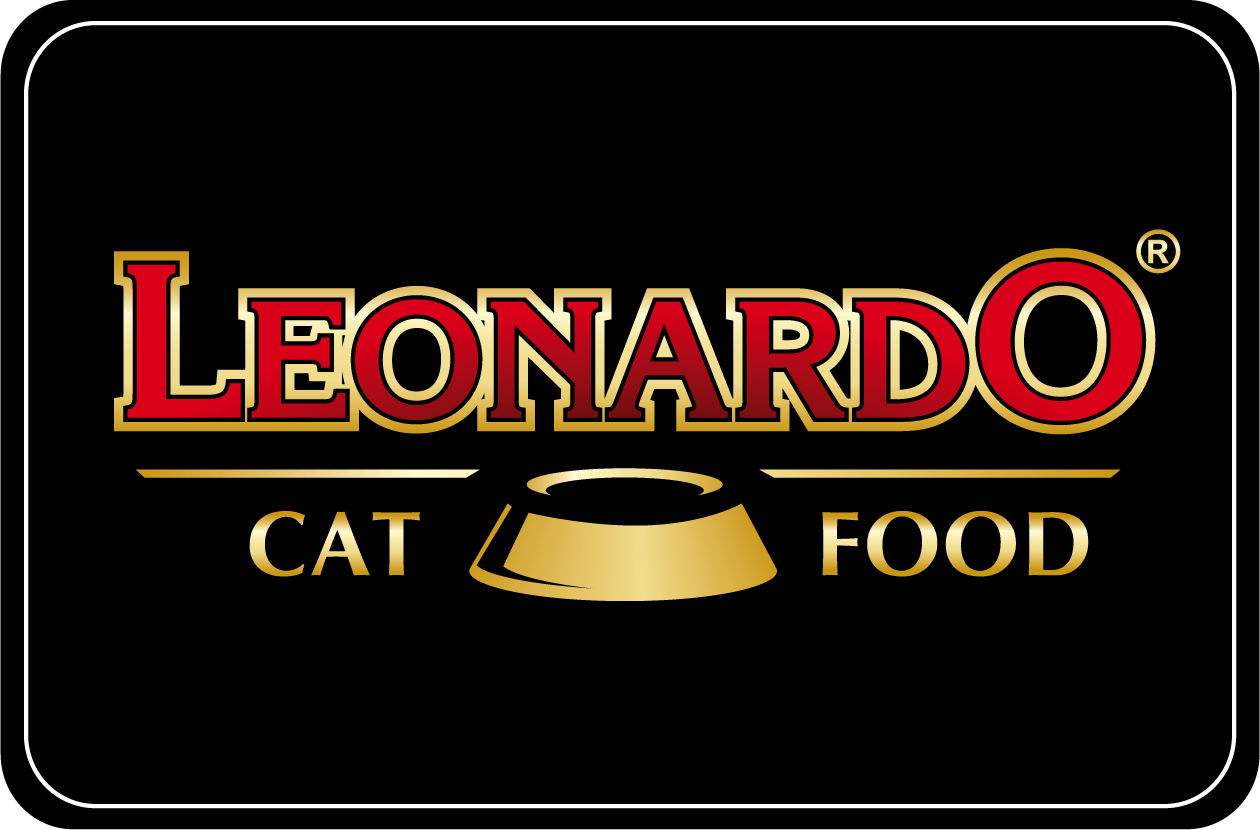 Our quality promise
Made in Germany

Best ingredients guaranteed

Outstanding flavour and digestive tolerance

Meat products exclusively from animals suitable for human consumption

With extra fresh meat
Gladly we can abstain from the use of these
Animal experiments

Soya protein

Artificial colourings, flavourings and preservatives