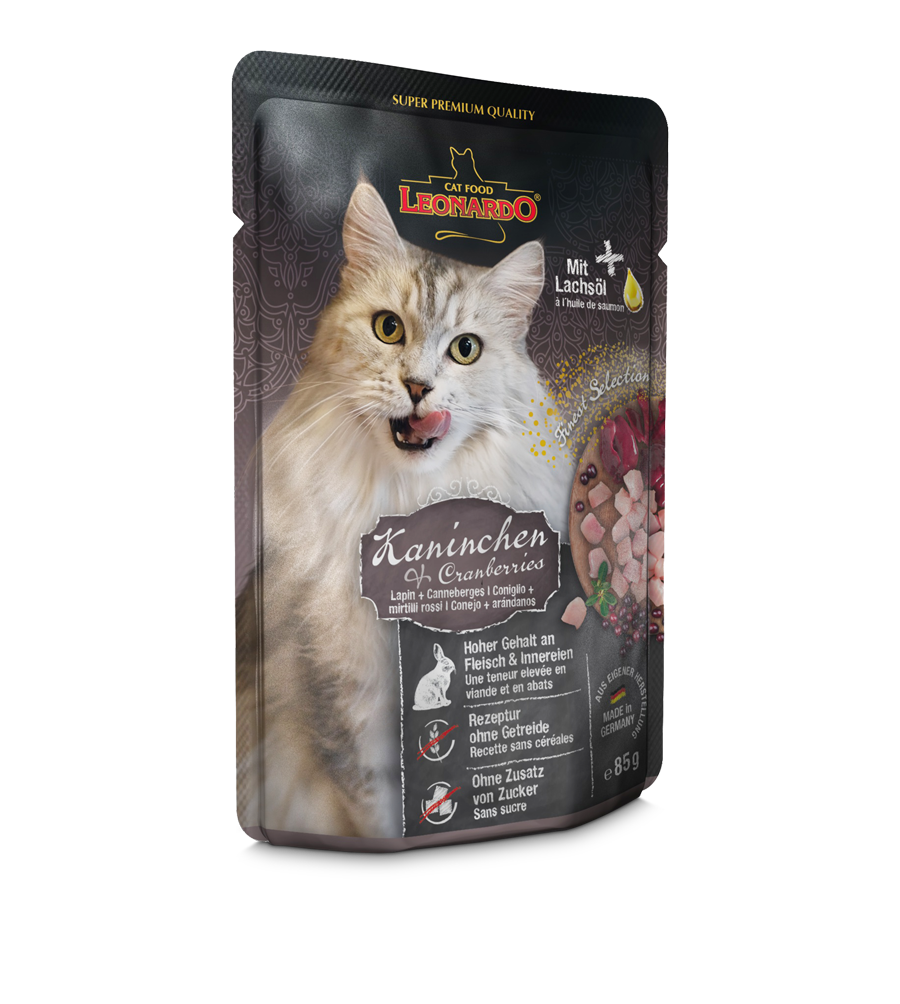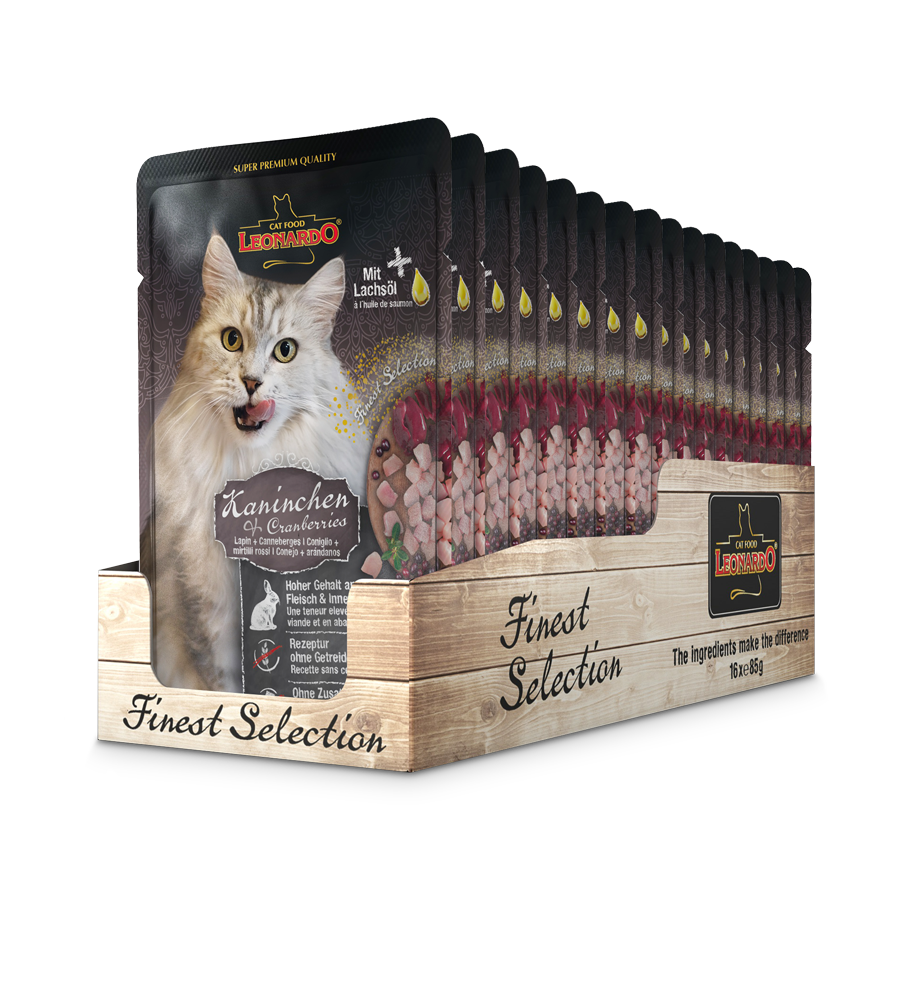 LEONARDO® Rabbit + Cranberries
Quality - Made in Germany
The fine selection
Excellent recipes in practical single portions. Juicy meat enhanced with fine ingredients and gently cooked in single-portion pouches. Salmon oil supplies polyunsaturated fatty acids.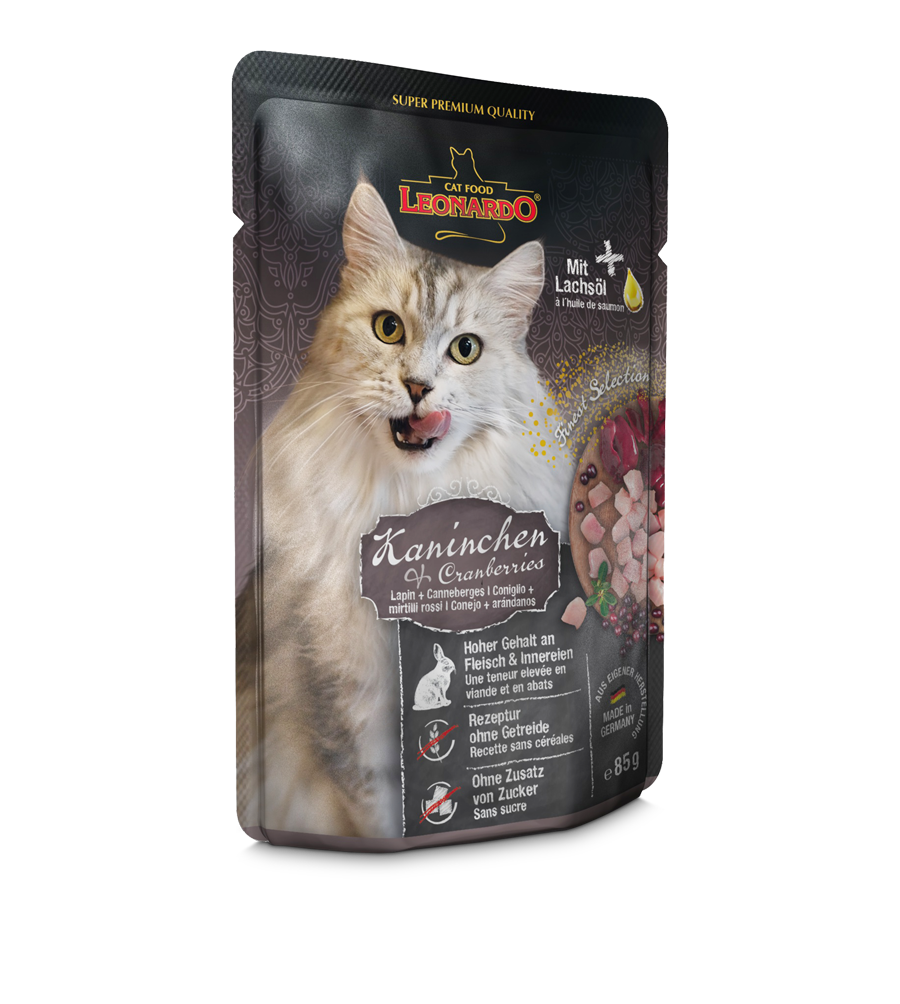 Two-three pouches daily for an adult cat weighing approximately 8.5 pounds.
Please feed at room temperature. Fresh drinking water should be available at all times.
Once open, store in the fridge for max. 24 hours.
Complete food for adult cats
Composition
Rabbit meat, heart, liver, lung, kidney (30 %); Chicken meat, liver, heart (30 %); Broth from rabbit, chicken, beef (28.3 %); Beef lung (6.5 %); Cranberries (4 %); Egg shells, dried (0.5 %); Minerals (0.5 %); Salmon oil (0.2 %)
Analytical constituents
Protein 11 %; Fat content 5 %; Crude ash 2 %; Crude fibre 0.3 %
Additives per kg
Nutritional additives:
Vitamin D3 200 IU; Vitamin E 50 mg; Taurine 1,000 mg; Manganese (as manganese(II)sulphate) 2 mg; Zinc (as zincsulphate, monohydrate) 20 mg; Iodine (as calciumiodate, anhydrous) 0.2 mg
---
sehr gutes Futter, jederzeit weiter zu empfehlen
Bei mir im Laden sofort gekauft
Endlich ein Trockenfutter mit großen Kroketten und ohne Getreide. Die Kroketten sind so groß das sie gekaut werden müssen. Sowohl Nass- als auch Trockenfutter wurde sehr gerne gefressen und gut vertragen.
Super Möglichkeit die Produkte auszuprobieren
Ich finde es toll für kleines Geld die Produkte auszuprobieren.
Super Futterzusammenstellung. Meine Coonies haben sich mächtig gefreut. weiter so und vielen Dank.
Das Paket wurde schnell verschickt, die Verpackung ist hübsch. Das Futter riecht gut und unsere Katze nimmt es gut an
Mein Kater liebt dieses Futter. Trocken, wie auch das Nassfutter. Das ist doch Lob genug.
sehr hochwertig, die Katzen lieben es
viel Fleischanteil, die Inhaltsstoffe sind perfekt ausgewiesen - nichts versteckt oder zweifelhaft
Es gibt keine bessere Werbung als Proben.
Katzen haben Ihren eigenen Willen, und man kann es noch so Gut meinen wie man will: Wenn sie nicht wollen, dann wollen sie nicht. Das ist natürlich auch beim Futter nicht anders, also ist es besser das Futter an der Katze probieren zu können bevor man einen Fehlkauf macht. Das ist hier sehr schön umgesetzt worden und wir haben es dankbar angenommen.
Also wir wussten schon das unser Katzen auf das Futter von Leonardo voll abfahren. Da wir schon Proben vom Futterhaus hatten. Leider ist das etwas Preiswerteren Trockenfutter was wir vorher hatten, nun komplett Blöd und wird links liegen gelassen. Aber was tut man nicht alles für die Kleinen !!! Werden bei dem Futter von Leonardo bleiben !!!!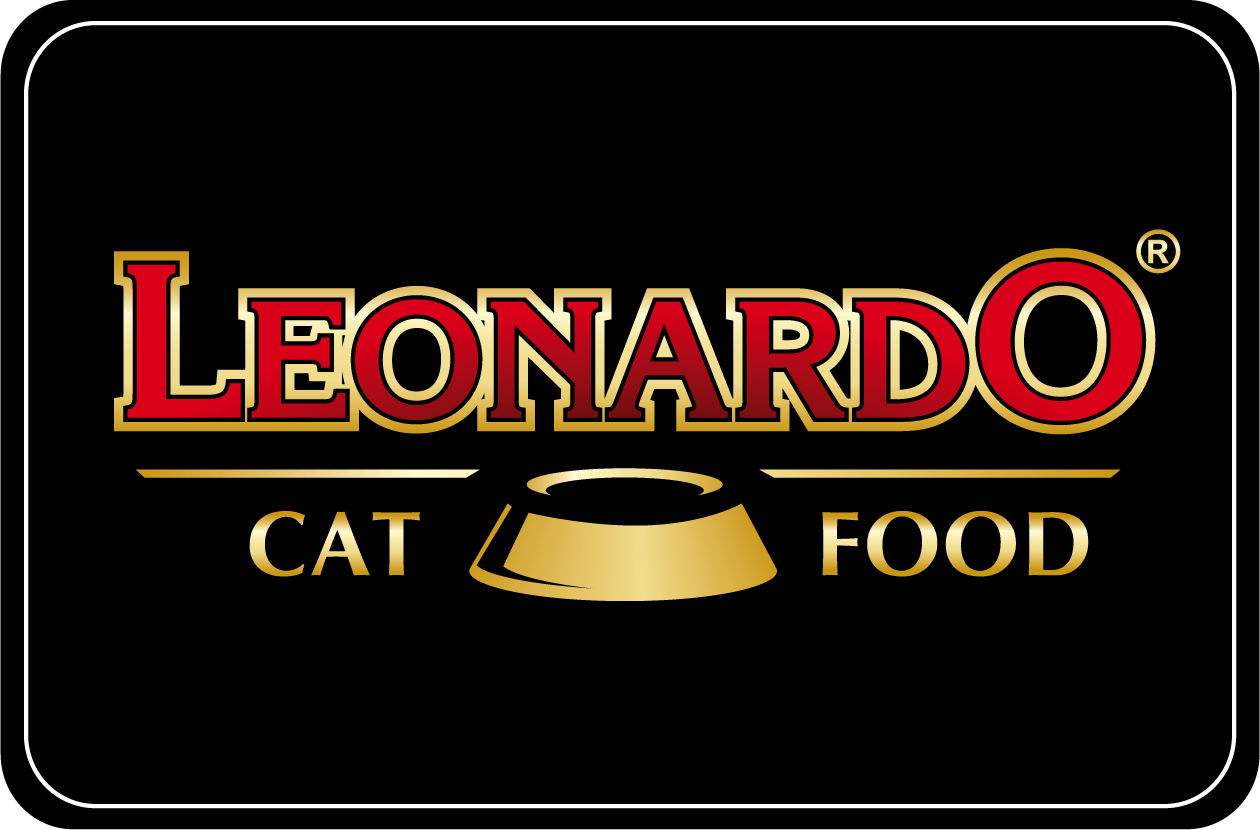 Our quality promise
Made in Germany

Best ingredients guaranteed

Outstanding flavour and digestive tolerance

Meat products exclusively from animals suitable for human consumption

With extra fresh meat
Gladly we can abstain from the use of these
Animal experiments

Soya protein

Artificial colourings, flavourings and preservatives