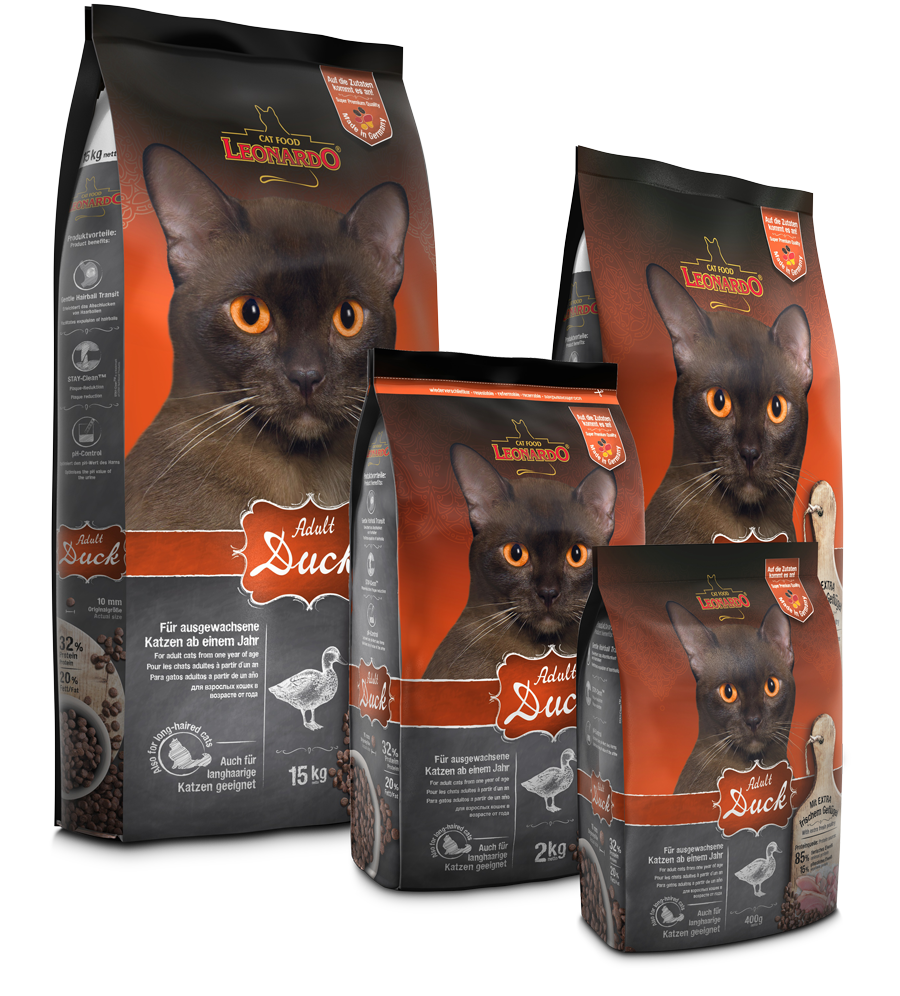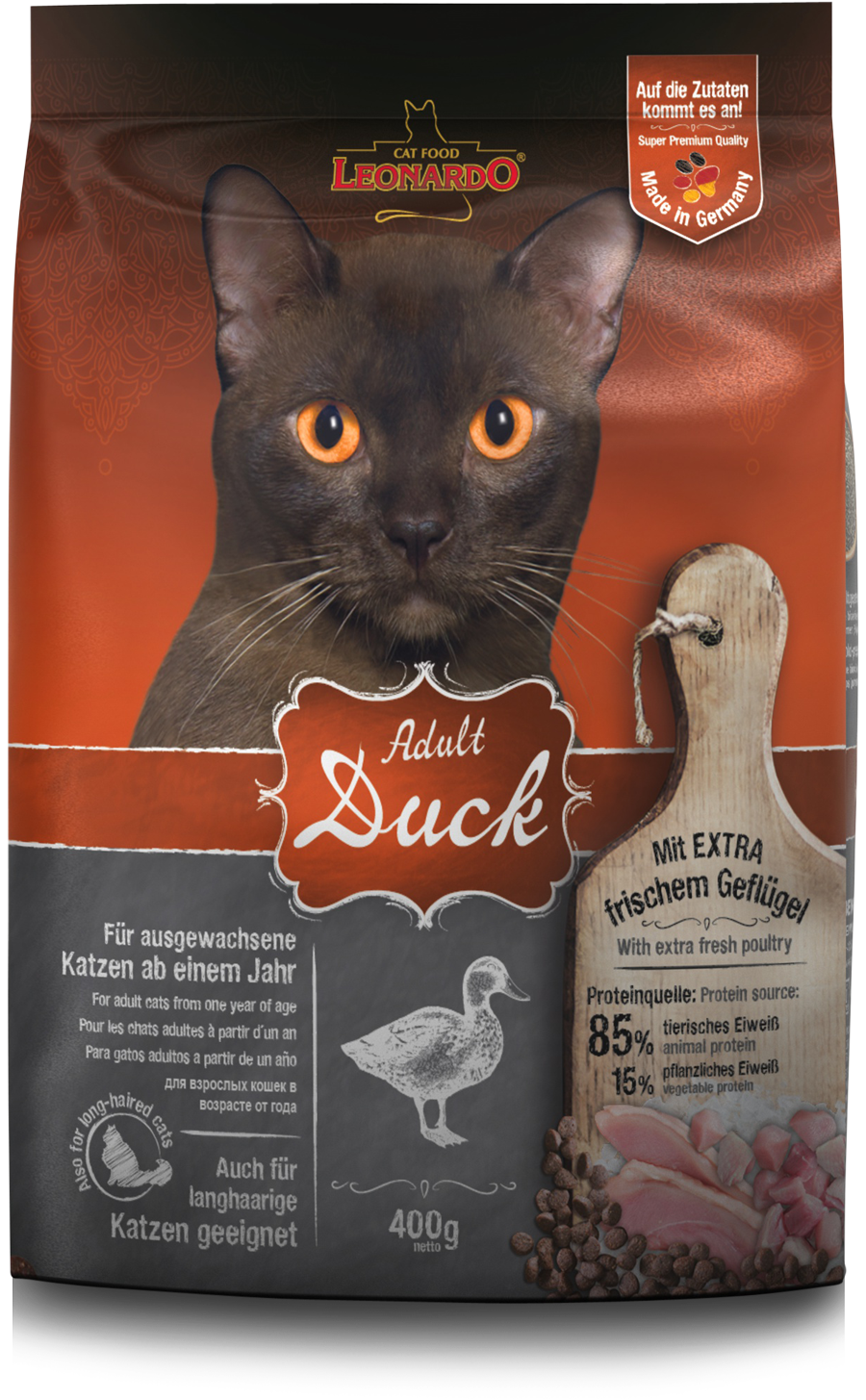 With extra fresh poultry
Easily digestible
special taste
Healthy, natural anti-aging supplement for cardiovascular fitness and vitality
Also recommended for long-haired cats
Quality - Made in Germany
For adult cats from one year of age
LEONARDO® Adult Duck is a tasty flavour for cats who love poultry. The recipe has also been improved with the addition of chia seed and delicious krill – crustaceans from the Antarctic. The high level of Omega-3 fatty acids, together with lecithin, helps keep skin healthy and coats shiny.
Our vital components
GENTLE HAIRBALL TRANSIT
Facilitates expulsion of hairballs
PH-CONTROL
Optimises the pH value of the urine
STAY-CLEAN™
Plaque reduction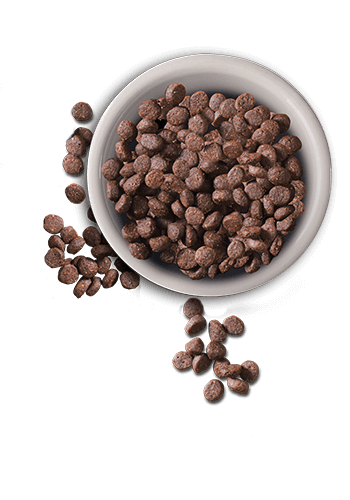 Recommended quantity of food per animal in g/day.
Mixed feeding: 25 g dry food replaces approx. 100 g moist food.
| | | |
| --- | --- | --- |
| Weight | sterilised/indoor | active |
| 3 kg | 25-40 g | 50 g |
| 4 kg | 30-45 g | 60 g |
| 5 kg | 35-55 g | 70 g |
| 6 kg | 40-60 g | 80 g |
| 7 kg | 45-65 g | 90 g |
Complete food for adult cats
Composition
Fresh poultry meat (30 %); Duck protein, dried (18 %); Rice; Poultry protein, low ash, dried (10 %); Potato starch; Poultry fat; Poultry liver, hydrolysed; Rye, malted; Egg, dried; Fish meal from sea fish (2.5 %); Marine zooplankton, ground (Krill, 2.5 %); Brewers' yeast, dried; Grape pips expeller (1.5 %); Chia seeds (1.3 %); Carob pods, dried; Guar gum; Sodium chloride; Potassium chloride; Chicory inulin
Analytical constituents
Protein 32 %; Fat content 20 %; Crude ash 7.9 %; Crude fibre 2.3 %; Moisture 10 %; Calcium 1.2 %; Phosphorus 0.8 %; Sodium 0.4 %; Magnesium 0.09 %
Additives per kg
Nutritional additives:
Vitamin A 15,000 IU; Vitamin D3 1,500 IU; Vitamin E 150 mg; Vitamin C (as ascorbyl monophosphate, sodium salt) 245 mg; Taurine 1,400 mg; Copper (as copper(II)sulphate, pentahydrate) 15 mg; Iron (as ferrous(II)sulphate, monohydrate) 200 mg; Manganese (as manganese(II)oxide) 50 mg; Zinc (as zincoxide) 150 mg; Iodine (as calciumiodate, anhydrous) 2.5 mg; Selenium (as sodiumselenite) 0.15 mg
Technological additives:
Lecithin 2,000 mg; Tocopherol extracts from vegetable oils (= natural vitamin E) 80 mg
---
Bei mir im Laden sofort gekauft
Mein Kater liebt dieses Futter. Trocken, wie auch das Nassfutter. Das ist doch Lob genug.
Das Paket ist sehr schnell und ordentlich zugestellt worden. Das Futter hat geschmeckt. Das Trockenfutter gibt es auf Zuteilung, sonst ist es gleich alle.
Das Paket wurde schnell verschickt, die Verpackung ist hübsch. Das Futter riecht gut und unsere Katze nimmt es gut an
Super futter unsere Katzen lieben es ;)
Eines der wenigen hochwertigen NaFu, das von meinen beiden Katern sehr gerne angenommen wird. TroFu muss grundsätzlich nicht sein, als Leckerlie aber der Renner.
Meine Katzen lieben das Trockenfutter von Leonardo. Habe mir das probierpaket bestellt damit die Katzen die neue Sorte probieren und ich dann einen großen Sack bestellen kann. Die Katzen vertragen das Trockenfutter sowie das nassfutter von Leonardo sehr gut.
Tolles Katzen-Trockenfutter
Meine drei Katzen lieben dieses Trofu; sogar meine älteste Katze, die jedes Trockenfutter verschmäht futtert ihren Napf leer.
Bis jetzt werden das Trockenfutter und die Beutel sehr gut gefressen. Die Dose wurde konsequent verneint. Meine beiden BKH sind sehr wählerisch (Schleckig). Die Katze frisst fast ausschließlich Trockenfutter und der Kater nur Nass Futter und hier ist er außergewöhnlich wählerisch. Er kann dann vor dem gefüllten Napf liegen und schreien was das Zeug hält, bis er das Futter bekommt, welches er mag und das kann stündlich wechseln. Bis jetzt frisst er das Leonadro Finest Selection ohne zu mäkeln. Also bis jetzt Daumen hoch und hoffen, dass das so bleibt. Werde mich dann zum UPDATE nach ein paar Tagen melden.
Unsere sehr mäkelige Katze fand bei diesem Produkt mal nichts zu meckern.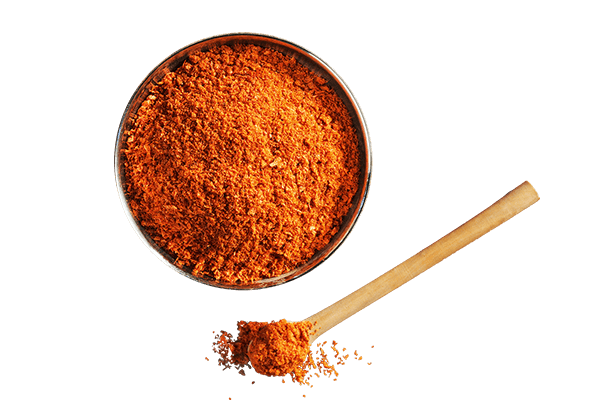 Marine zooplankton (Krill)
Especially rich in healthy nutrients and vital substances such as omega-3-fatty acids, astaxanthin and natural enzymes.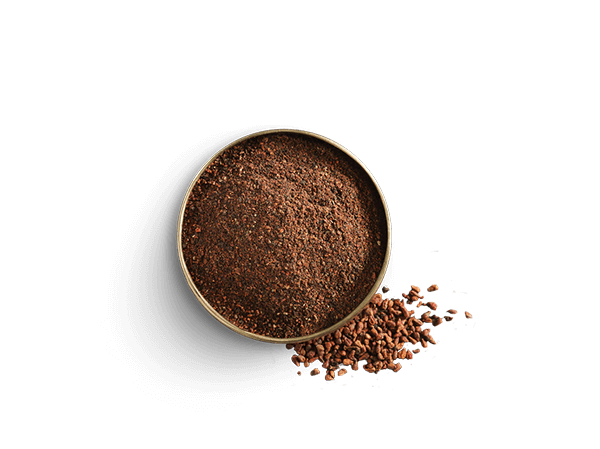 Kalt gepresstes Traubenkernmehl
Die bioaktiven Substanzen aus den Traubenkernen (Polyphenole) dienen dem Zellschutz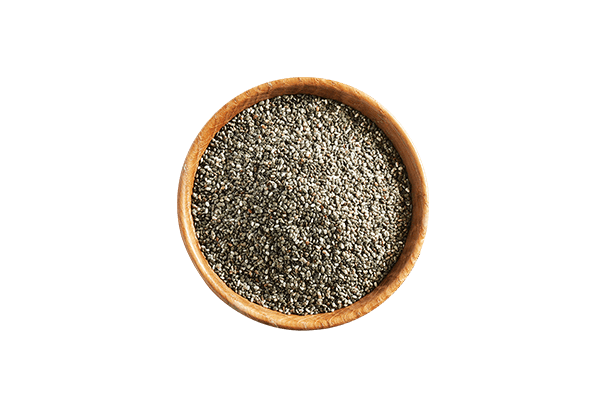 Chia seeds
Support digestion with natural mucilage and contains 20 % omega-3 fatty acids.
What is the protein source?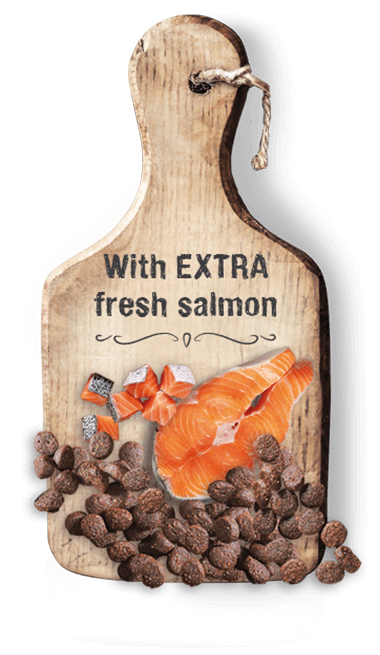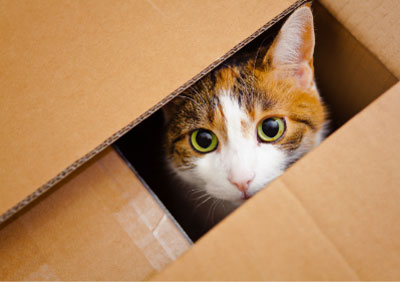 "You can already smell the quality when opening it! My cat walked to its food bowl immediately."
Ulrike S.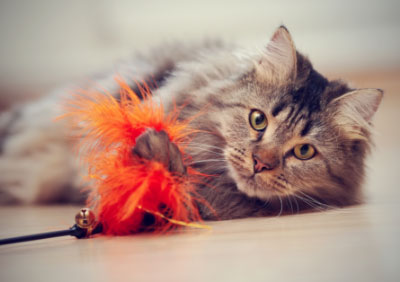 "Very well accepted by my three furry friends. Even my picky girl likes to eat it."
Birgit M.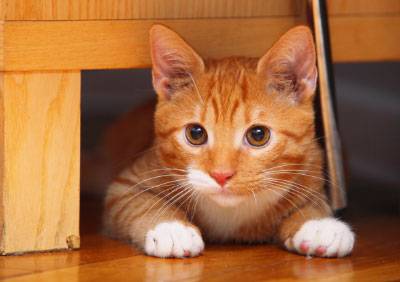 "There is no better dry food! My cat loves it!"
Kerstin J.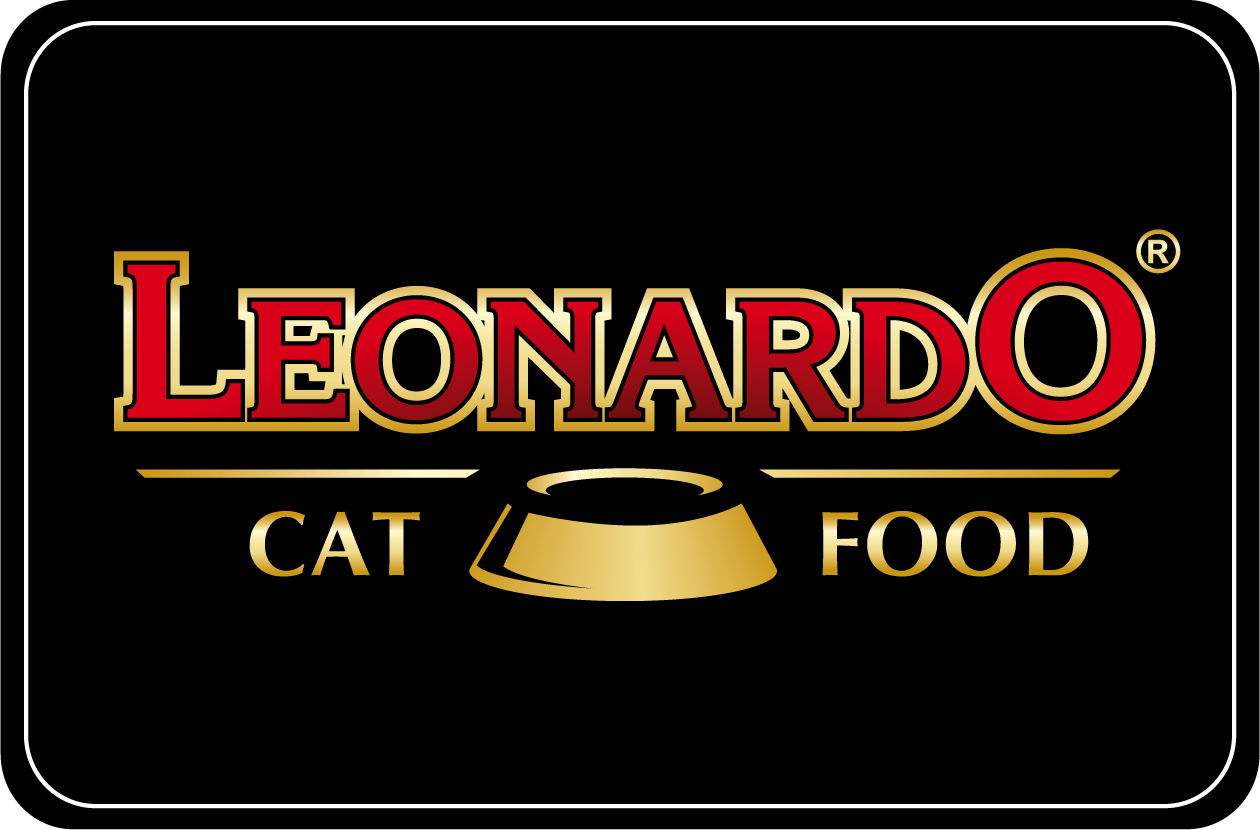 Our quality promise
Made in Germany

Best ingredients guaranteed

Outstanding flavour and digestive tolerance

Meat products exclusively from animals suitable for human consumption

With extra fresh meat
Gladly we can abstain from the use of these
Animal experiments

Soya protein

Artificial colourings, flavourings and preservatives